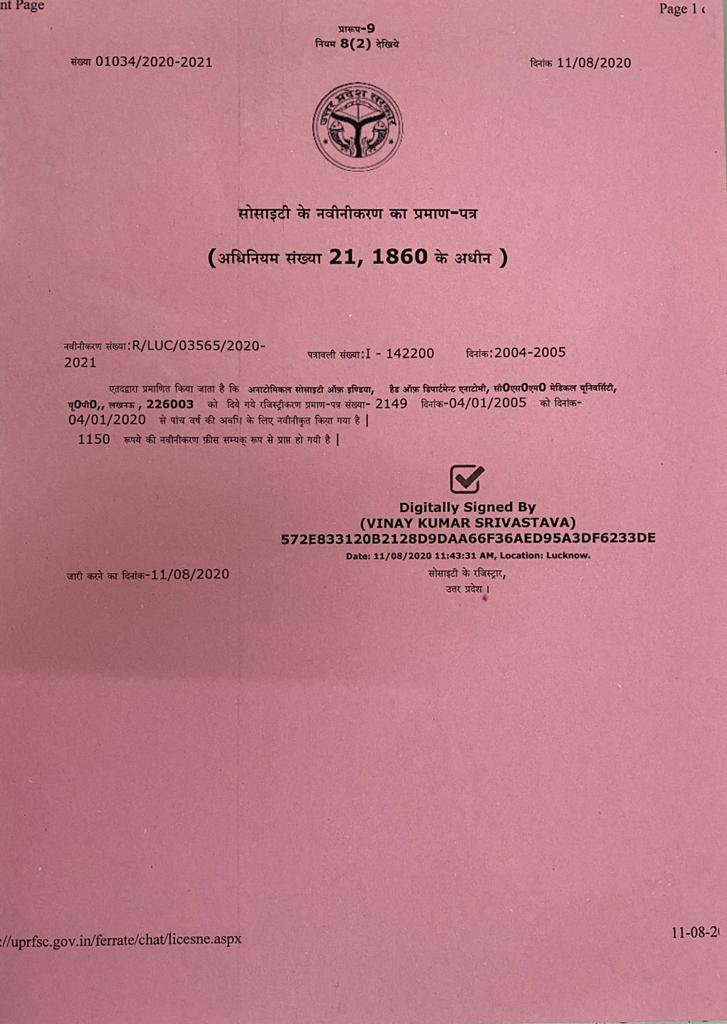 IMPORTANT POINTS REGARDING CONTINUNATION OF REGISTRATION
Registration of the Society was done on 4th January 2005 in the office of Registrar Firms, Societies & Chit Fund, Lucknow, vide registration no. 2149 of 2004 – 2005 under the Societies registration act No. XXI of 1860.  As per law in Uttar Pradesh the Registration has been renewed on 11/08/2020 vide no. 01034/ 2020- 2021 for a further period of 5 years. Original Certificate and certified original copy of constitution, rules and regulations and other related documents will remain in K.G's. Medical University, Lucknow with Head of Department of Anatomy.  A parallel file will be maintained by the General Secretary of ASI. . The papers are in the custody of Dr. R. K. Verma, Assistant Professor in the Department of Anatomy, King George's Medical University, Lucknow – 226 003 UP is looking after this work.  Accounts of Society have to be prepared financial year-wise. Each year in the month of April / May documents have to be submitted in the office of Registrar of Societies at Lucknow by the General Secretary, which are:
(1) Annual report of the society.
(2) Annual Accounts of the society.
(3) List of outgoing office bearers / members with their signatures.
(4) List of newly elected office bearers/members of executive committee and
(5) In case signatures of any outgoing member / office bearer could not be obtained, the
General Secretary should give an affidavit to that effect.
The re-registration has been done on 11/08/2020  for a further period of 5 years i.e., the renewal will be due on 4 January 2025.